Material remodeling and unconventional gaits facilitate locomotion of a robophysical rover over granular terrain
Siddharth Shrivastava, Andras Karsai, Yasemin Ozkan Aydin, Ross Pettinger, William Bluethmann, Robert O. Ambrose, Daniel I. Goldman, Science Robotics (2020), Vol.5, Issue 42.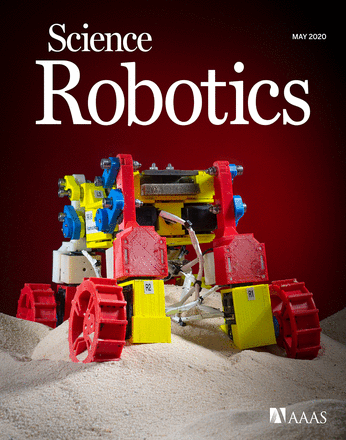 S1. RP15 climbs granular mound with the RS gait.
S2. Mini Rover using RS gait on a flat poppy seed bed.
S3. Mini Rover RS gait trial in granular experimentation bed.
S4. Single-wheel gantry trial of spin and sweep motion.
S5. Mini Rover RS gait trial measurement of drawbar force.
S6. Drawbar force measurements of RP15 prototype rover.
S7. Mini Rover RS gait drawbar force measurement in wet sand bed.
S8. Mini Rover RRP gait on sloped poppy seed bed.
S9. Comparison of Mini Rover RRP gait with wheel spin enabled versus disabled.